One of the frustration when trading is dealing with sideways trend.
Sideways breakthrough can possibly turn to huge uptrend or downtrend after breakthrough.
It can breed more sideways as well (sigh).
Above all, patience is the key because sideways can go on for the whole trading day.
I confess, I'm a noob trader
After going to WR Trader Academy's training, I've decided to blog my journey in FCPO trade (Futures Crude Palm Oil).
I will share step-by-step thought process before making a decision to take long or short position.
I am currently using tradingview.com free charting tool.
FCPO Trade Homework
Before going into trade, I reviewed chart history from 21/06/2019.
From the chart, I can see:
We are in the buying trend.
There is a big down candle closing below MA(50) but no confirmation of selling trend yet.
There is a long sideways trend that is possibly breaking downwards.
There are few possibilities after reviewing the chart:
If the buying trend continues, I am looking for to buy. It seems unlikely looking at the chart.
A confirmation signal of selling if a low candle clearly closes under MA(50).
The sideways trend breakout into selling trend. Usually after sideways trend breakout, there will be a high velocity downwards.
Sideways Trend Breakthrough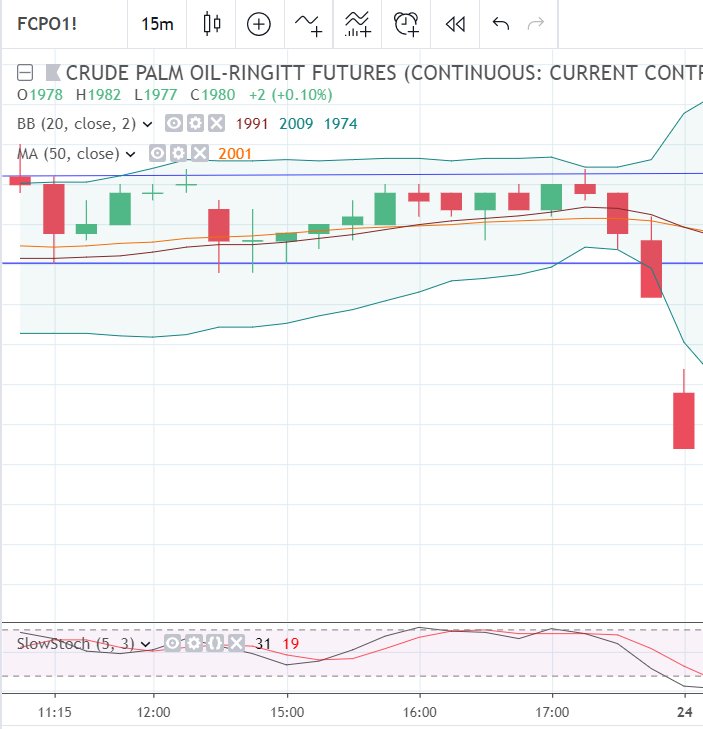 The market opens with a down gap, confirming selling trend.
A big down candle closes below the low Bollinger Band indicating a possible big momentum in downtrend.
My pending order for sell position:
Stop Loss @2030 (just over the MA(50))
Pending Order@2001 (just below the closing of down candle)
Take Profit: 29 points
Plan B: Hold position if the downtrend velocity is high and probably cancel position if no momentum.
Unfortunately, after 30 minutes, my pending order did not hit.
I cancelled the pending order and look for other selling opportunity.
The price did not go straight down. Instead, it formed 2 sideways. The second sideways trend looked as if it was breaking through upwards. But with no solid confirmation, I am still looking for selling opportunity.
Around 4.45 PM I found a selling opportunity after an inverted hammer completed near the mid Bollinger Band.
My pending order for sell position:
Stop Loss @2006 (just over the sideways trend resistance)
Pending Order@2001 (just below the closing of inverted hammer)
Take Profit: When the price closes near to the low Bollinger Band.
I decided to take profit @1997 price for 4 points.
After the first day of trading, I am glad that I did not just enter into any trade based on whims.
As a result, even taking a small profit feels really good.
If you are interested in doing some research on Global Futures trading, I highly suggest going to WR Trader Academy seminar.